Lake Okeechobee played host to several tournaments over the weekend with lots of big fished weighed in. Austin Murray and Jesse Rudolph won big fish honors for the Crackerboys Bass Club tournament held on Lake Okeechobee with a 7.71lb largemouth.
While the local young guns Justin Morgan and Garret Folbrecht, topped more then 50 veterans to take a 3rd place finish with a total weight of 17.55 lbs.
Awesome job by both these young teams. Other tournaments produced similar results with most winning bags weighing in around the 20 lbs mark. The fishing report from the anglers stayed the same with most fish caught early on spinnerbaits and top water. However, a few reports of the flipping bite have appeared. As the water level continues to rise, the flipping bite should only start to get better.
Primary Locations:
King's Bar
Buckhead Ridge to 3rd Point
Primary Baits:
Spinnerbait
Gambler Big EZ (Copperfield)
1 oz Medlock Jig (Black/Blue)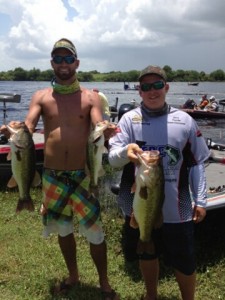 Austin and Jesse with the Big bass weighing 7.71 lbs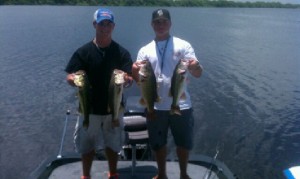 Justin and Garret with a 3rd place finish weighing 17.55 lbs